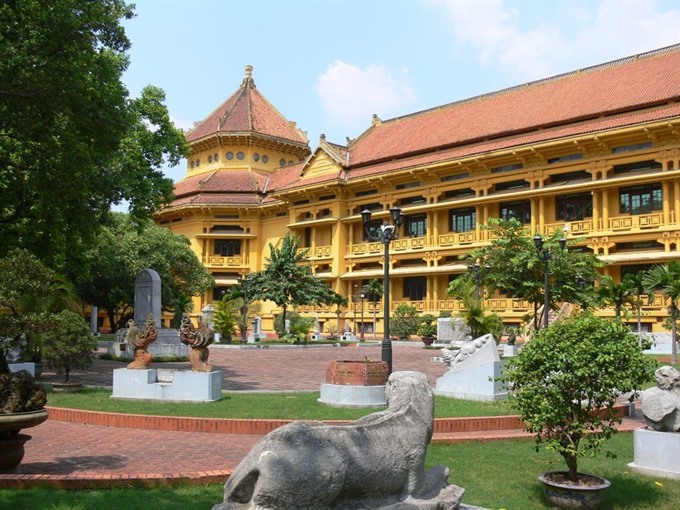 Blend: The National Museum of Vietnamese History is a typical example of colonial architecture in Hà Nội. — Photo mytour.vn
Viet Nam News
HÀ NỘI — A workshop held here on Tuesday brought together dozens of French and Vietnamese specialists on records and archives to review a stack of documents dating back to the French colonial period.
Đặng Thanh Tùng, head of the State Department for Records and Archives, said the department and its French counterpart had worked together to preserve archives in both countries, following the framework of an agreement signed between the two agencies in 2009 and re-signed in 2016.
"In the next few months, the Việt Nam State Department for Records and Archives and the French Archives Department will exhibit more archival documents to help the public understand the process of forming and developing each nation, as well as to strongly support co-operation between Việt Nam and France in this field," Tùng said.
An exhibition titled French Cultural Impressions Through Archival Documents will be held at the Nation Archives Centre No 1, 18, Vũ Phạm Hàm Street, Yên Hòa Ward in Hà Nội today.
The event features more than 150 documents, images and objects dating to the early colonial period in the late 19th century. The original documents and objects are preserved at France's Overseas Archives, France's Archives Department, the Việt Nam National Archives Centre No 1 and the Việt Nam State Records and Archives Department.
Tùng said the related agencies had continuously exchanged materials and researchers. "We plan to open a joint exhibition in 2018 to display common archives and will publish a bilingual directory book on colonial period archives," he said.
Odile Welfele, head of the Development and International Relations Department under the French Archives Department, noted that French people from a range of backgrounds had contributed to the construction of the archives.
"Besides researchers, many military staff and medical staff have enriched the stock of French documents on Việt Nam and Indochina," she said.
Their documents are diverse, involving their lives and work in Việt Nam.
"For example, many people like taking photographs of street fruit vendors in Sài Gòn (now Hồ Chí Minh City)," she said, "Some military staff preferred to take photos of ethnic minority groups. There are also posters on education taken by French teachers."
Archived documents offer a range of views on lifestyles of the colonial period, illuminating theatrical arts in the 20th century and theatre buildings in Hà Nội and HCM City.
"In France's Archives Department, the documents represent both professional concerns and daily life and are organised by year. We can see that in the 1930s, Hà Nội was a very beautiful city in a vivid Indochina," Welfele said.
According to Benoit van Reeth, director of France's National Overseas Archives, the document stock on Việt Nam and Indochina allows researchers to take a closer look into the past, using both written documents and photographs. The archives are especially rich with documents on the administration, culture and politics of the colonial system.
"There are also secret agents' reports, diplomatic agreements, materials on society, labour and the draft of the Law on Labour in Indochina," he said. "We stored also 9,000 pages of reports following Nguyễn Ái Quốc's (Hồ Chí Minh) activities in Việt Nam and France by French secret agents."
Among documents he mentioned, Reeth focused on contributions by Albert Sallet, a medical doctor, especially interested in the language and culture of the Champa people. He then compiled a book on the traditional medicines believed to wipe away evils in Việt Nam.
"His materials include a profound display of research and drawings," he said. "All have been preserved in a scientific, ordered system that conveys a diverse knowledge of Vietnamese traditional medicine."
Trần Thị Mai Hương, director of the Việt Nam National Archives Centre No 1, said French language materials accounted for 80 per cent of the centre's preserved document. Administration documents from 1860-1945 comprised the bulk of the collections.
Reeth discussed the benefits of dispersing archives from the colonial period between France and Việt Nam.
"Some people hold that we keep the stock in two halves, and it means the documents' value will be cut by half," said Reeth. "But I don't think so. If Việt Nam keeps a half, and France keeps a half, the value will be doubled as each researcher will have to go to both countries for field trips, which helps further enrich shared memories of the two nations." -- VNS
Nguồn: vietnamnews.vn